Independent power producer ReNew Power has recorded a revenue of ₹21.31 billion (~$287 million) for the second quarter (Q2) financial year (FY) 2022, an increase of 44% over Q2 FY 2021.
Its revenue in the first half (1H) of the FY 2022 was ₹38.12 billion (~$514 million), a 26% year-over-year (YoY) rise over 1H FY 2021.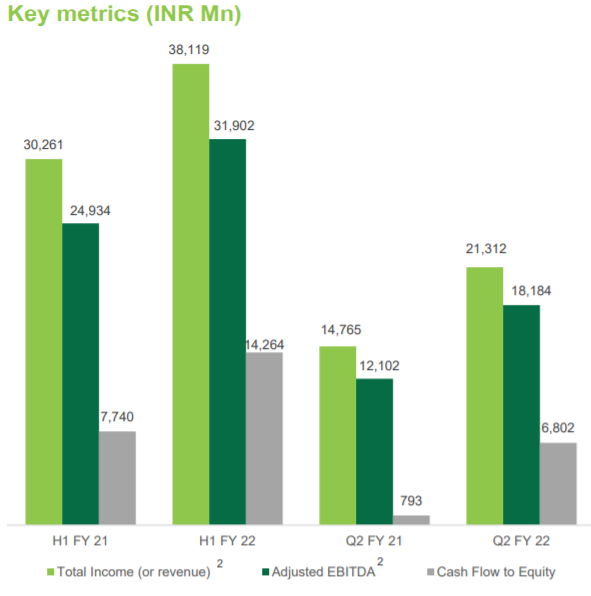 The company registered a net loss of ₹9.85 billion (~$133 million) compared to ₹592 million (~$7.97 million) in 1H FY 2021. The net loss for 1H FY 2022 included ₹16.41 billion (~$221 million) in charges related to listing on the Nasdaq, issuance of share warrants, and listing related share-based payments.
Adjusted EBITDA for 1H FY 2022 was ₹31.90 billion (~$430 million), an increase of 27.9% over 1H FY 2021. Adjusted EBITDA for Q2 was ₹18.18 billion (~$245 million), an increase of 50.3% over Q2 FY21.
Adjusted EBITDA was not amended to include ₹2.97 billion (~$40 million) in 1H and ₹1.63 billion (~$22 million) in Q2, arising from the net negative impact of weather.
Non-IFRS cash flow to equity from operating assets for 1H was ₹14.26 billion (~$192 million), an increase of 84.3% compared to 1H FY 2021. Non-IFRS cash flow to equity from operating assets for the Q2 2022 was ₹6.80 billion (~$92 million), an increase of 757.5% over Q2 FY 2021.
ReNew forecast an adjusted EBITDA of ₹60.75 billion (~$810 million) for FY 2022, excluding the impact of weather.
According to the company, 7 GW of projects were commissioned as of November 15, 2021. ReNew estimates that 8.2 GW will be operational by the end of FY 2022.
The company's total portfolio, including both commissioned and committed projects as of 1H 2021, stood at 10.21 GW, increasing 257 MW after adjusting for asset monetization. The installed capacity grew from 5.46 GW to 6.31 GW, an increase of 15.6%. Since February this year, it has commissioned 515 MW of capacity.
It has a committed capacity of 1.7 GW in round-the-clock (RTC) and peak power projects – a combination of wind, solar and storage.
ReNew Power was one of the winners in the Solar Energy Corporation of India's (SECI) auction for 1,200 MW interstate transmission system (ISTS)-connected wind power projects (Tranche-XI) in the country. The company had won a capacity of 300 MW for ₹2.69 (~$0.0369)/kWh.
The company was listed on the Nasdaq after completing a business combination with RMG Acquisition Corporation II, a special purpose acquisition company (SPAC). In February 2021, ReNew Power announced a merger with the SPAC, offering the combined company a market value of around $8 billion.