Solar tenders totaling approximately 6 GW were floated by various government agencies in the fourth quarter (Q4) of the calendar year (CY) 2021, an increase of 6% compared to 5.8 GW in Q3 2021, according to Mercom India Research. The figures were down by 26% compared to the same period last year.
The auction activity decreased by 52% quarter-over-quarter (QoQ), and the numbers stood at 4.3 GW for the quarter, compared to 8.9 GW in Q3 2021. The numbers increased by 44% compared to the same period last year.
The industry has been waiting to see if the government will impose basic customs duty (BCD) on solar modules and cells starting April 2022. The goods and services tax (GST) hike and applicability has also added to stakeholders' confusion. Another major concern is the access to imported modules considering the restriction imposed through the 'Approved Models and Manufacturers (ALMM) of Solar Photovoltaic Modules' Order. Even with all these challenges, the low tariff expectation by the distribution companies (DISCOM) has been difficult for the developers to deliver.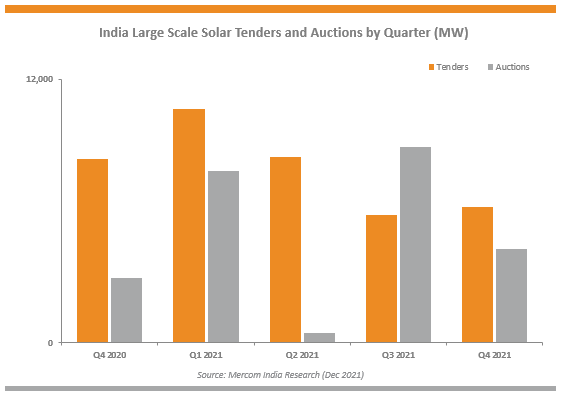 Top agencies issuing tenders
The Maharashtra State Electricity Distribution Company Limited (MSEDCL) accounted for 28.3% of the total tenders floated in Q4 2021, followed closely by the Solar Energy Corporation of India (SECI), with 27.5% of the total tenders issued in Q4 2021, and NTPC Limited with 21%.
Important tenders floated in Q4 2021
MSEDCL invited bids to procure 1,250 MW solar power from projects developed in various districts of Maharashtra, with a ceiling tariff of ₹3.10 ($0.041)/kWh.
NTPC invited bids from contractors for an engineering, procurement, and construction (EPC) package along with land for developing inter-state transmission system (ISTS)-connected solar PV projects up to 1,200 MW capacity in Karnataka.
SECI released a tender for setting up 1,200 MW of ISTS-connected wind-solar hybrid power projects (Tranche-V) across India.
Major auctions in Q4 2021
Hindustan Thermal Projects quoted the lowest tariff of ₹3.01 (~$0.040)/kWh, in SECI'a auction for 2.5 GW of round-the-clock (RTC) power from grid-connected renewable energy projects, complemented with power from coal-based thermal projects. Greenko Energies, ReNew Samir Urja, Power Mech Projects, and JSW New Energy also participated in the auction quoting tariffs ranging from  ₹3.18 (~$0.042)/kWh to ₹3.45 (~₹0.046)/kWh. According to the request for selection (RfS) document, the bidders will have to match the L1 tariff for the Letter of Award to be issued.
The Indian Renewable Energy Development Agency announced the list of successful bidders for setting up manufacturing capacities for a minimum of 10 GW of vertically-integrated high-efficiency solar modules under the production-linked incentive (PLI) program.
NTPC, Sprng Energy, UPC Renewables, Metka EGN Singapore Pte, ReNew Power, and ACME Solar were declared winners in SECI's auction for 1,785 MW of solar projects (Tranche-IV) in Rajasthan. The lowest tariff quoted in the auction was ₹2.17 (~$0.0289)/kWh.
Subscribe to Merccom's India Solar Tender Tracker to stay on top of the real-time tender activity