Uttar Pradesh has launched India and South-Asia's first blockchain-enabled 'peer to peer' (P2P) trading platform for rooftop solar power. The Uttar Pradesh Power Corporation (UPPCL), Madhyanchal Vidyut Vitran Nigam Limited ...
Here are some noteworthy cleantech announcements of the day from around the world: Yellow Door Energy, a UAE-based sustainable energy provider for businesses, has successfully commissioned a 3.1 MW solar ...
The Punjab State Power Corporation Limited (PSPCL) has issued an empanelment tender to install approximately 30 MW of grid-connected solar rooftop projects in the range of 1 kW to 1,000 ...
The Gulbarga Electricity Supply Company Limited (GESCOM) has floated five tenders inviting bids totaling 2,990 kW of grid-connected rooftop solar photovoltaic (PV) projects on government buildings located within its jurisdiction ...
There were two interesting small solar tenders one from a government agency and the other from an industry association that was issued this week. These tenders display a variety of ...
ZunRoof, an Indian solar rooftop startup, has raised another fresh round of series A funding of $1.2 million from Godrej properties. ZunRoof specializes in solar rooftop design, installation, and management using computer ...
The National Thermal Power Corporation (NTPC) has issued a tender to install rooftop solar photovoltaic (PV) projects totaling 500 kW at various locations of Kanti Bijlee Utpadan Nigam Limited (KBUNL) ...
In a notification issued by the Karnataka Government, it has been clarified that solar rooftop installations below 1 MW are not mandated to be inspected by the electrical inspector. Previously, ...
The recent tender floated by Madhya Pradesh Urja Vikas Nigam Limited (MPUVNL) for the development of 35 MW of grid-connected rooftop solar under RESCO model saw bids as low as ...
The Power Grid Corporation of India Limited (PGCIL) is installing 5 MWp rooftop solar PV systems at more than 50 locations of the company across the country, reported PTI. Currently, ...
The Ministry of New and Renewable Energy (MNRE) has de-empaneled 26 firms and agencies active in the rooftop solar sector in India. The MNRE re-instated 45 rooftop installers that were ...
Over 26.9 MW of solar tenders were announced in India during the week ending September 08, 2017, from 36.4 MW of solar tenders unveiled a week earlier. The largest tender ...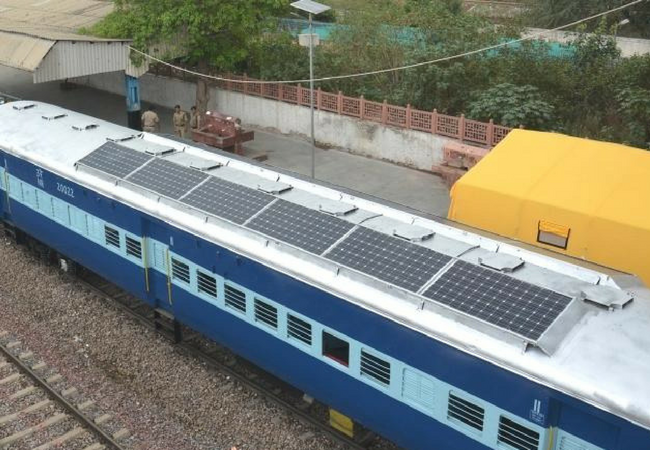 Vivaan Solar will develop the 1.5 MW solar rooftop system at the Jhansi Railway Station. The company quoted a tariff of Rs.5.64 (~$0.0844)/kWh and the project is expected to be ...
The World Bank has approved a global environment facility (GEF) grant of $22.93 million (~Rs.1.55 billion) to enhance the installed capacity of grid-connected rooftop solar PV (GRPV) and strengthen the ...
The Administration of Union Territory (UT) of Chandigarh is providing incentives to spur rooftop installations by private developers. The Chandigarh administration has targeted rooftop installation goal of 50 MW by ...