After a buoyant May, trading in both solar and non-solar renewable energy certificates (RECs) saw a significant decline in June 2018.
In June 2018, 592,401 solar RECs were traded. This was 322,011 fewer than the 914,412 solar RECs traded in the previous month.
All solar RECs were traded at a price of ₹1,000 (~$14.50).
On the Indian Energy Exchange (IEX), a total of 288,070 buy bids were registered for solar RECs. This is 105,752 solar RECs fewer than the 393,822 solar RECs traded on IEX in May 2018. On the IEX, 394 entities traded in solar RECs in the June 2018 trading session; 23 entities fewer than the 417 entities that traded on IEX in May 2018.
The Power Exchange India Limited (PXIL), registered 304,331 buy bids for solar RECs. This is 216,259 solar RECs fewer than the 520,590 that were traded on PXIL in May 2018. PXIL attained a market share of 51 percent in solar REC trade.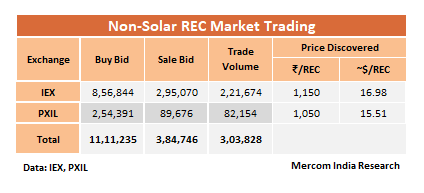 Similar to the previous trading session, the non-solar RECs in this session were traded in two categories: RECs issued before April 1, 2017, and RECs issued after April 1, 2017. Mercom recently reported that non-solar RECs issued on or after April 1, 2017, are to be sold at a floor price of ₹1,000 (~$14.809)/REC, in line with the latest ruling passed by the Supreme Court.
Non-solar REC trade also witnessed a slump after months of flying high. A total of 303,828 non-solar RECs were traded in the June trading session. This is 97,386 non-solar RECs fewer than the 401,214 traded in the May 2018 trading session.
According to IEX, a total of 221,674 non-solar RECs issued after April 1, 2017, were traded with buy bids at 856,844 and sell bids at 295,070 with a clearing price of ₹1,150 (~$16.68)/REC. A total of 11,172 sell bids for non-solar RECs issued before April 1, 2017 were registered on the IEX, but none was traded.
Per PXIL, 82,154 non-solar RECs were traded in June. This is 4,934 non-solar RECs more than the 77,580 non-solar RECs traded in May 2018 on PXIL.
A total of 20,000 sell bids for non-solar RECs issued before April 1, 2017, were registered on the PXIL, but no buy bids were received. Nearly 0.38 million RECs were cleared on PXIL leading to an overall market share of 43 percent.
When contacted, Mercom's source at PXIL said, "When you look at it on month-by-month basis, there is decrease in numbers. But, you have to know that the obligation of FY 2017-18 has been completed and as RPO compliance is annual, during the initial few months of the fiscal, REC trading is always slow."
"Having said that, I would also add that we have now almost exhausted non-solar REC inventory. And the REC trade that we witnessed this month (in terms of volume), will be hard to repeat," the PXIL source said.
Another source commented on the June trading saying, "This is not really a slump. In FY 2017-18, REC trading witnessed an over 100 percent increase when compared to FY 2016-17. After such a peak, there will be slight lows, and there are reasons for that. Non-solar inventory has been exhausted, and if you have noticed, even in this trading session non-solar RECs sold above the floor price."
The source further added, "Sell side is good for solar RECs too, but in that case the focus is more on actual procurement of solar energy. Procuring solar is doubly beneficial for any entity as they can meet RPO as well as have cheap power."
Saumy is a senior staff reporter with MercomIndia.com covering business and energy news since 2016. Prior to Mercom, Saumy was a copy editor at Thomson Reuters. Saumy earned his Bachelors Degree in Journalism & Mass Communication from the Manipal Institute of Communication at Manipal University. More articles from Saumy Prateek.