The Union Budget for the financial year (FY) 2022-23 presented by Finance Minister Nirmala Sithararman has been well received by the renewable industry.
Some of the important points proposed in the budget were:
To facilitate domestic manufacturing to reach the ambitious goal of 280 MW of solar capacity by 2030, the government has announced that it would allocate an additional ₹195 billion (~$2.61 billion) for the production-linked incentive (PLI) program.
The government plans to develop a 'Battery Swapping Policy' and formulate interoperability standards.
The government has announced that it would issue green bonds to mobilize resources for green infrastructure for public sector projects to reduce carbon emissions and promote the use of energy storage, grid storage, and battery storage systems.
The government has also proposed the implementation of the Ken-Betwa Link Project at an estimated cost of ₹446.05 million (~$5.97 million) will be taken up. A total of ₹14 billion has been allocated for the project in the budget 2022-23.
The basic customs duty of 40% on modules and 25% cells will be effective from April 1, 2022.
Some of the major budget outlays in the power sector include the highest ever ₹33.7 billion (~$450 million) for solar power, a 30% increase from the ₹26 billion (~$356 million) in Budget 2021.
The allocation for strengthening power systems has been doubled to ₹29.8 billion (~$398 million). The PM Kisan Urja Suraksha evam Utthaan Mahabhiyan (KUSUM) program received an outlay of ₹17.2 billion (~$230 million). Wind power was allocated an outlay of ₹10.5 billion (~$141 million), a marginal reduction from the ₹11 billion (~$150 million) provided for in Budget 2021.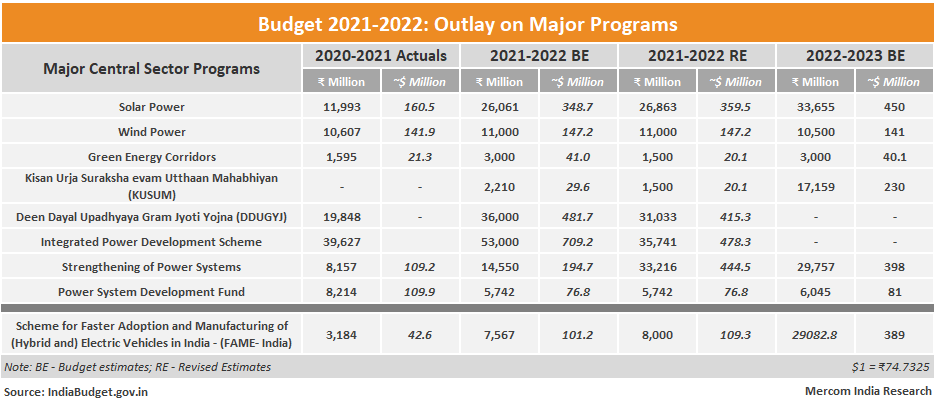 The program for Faster Adoption and Manufacturing of (Hybrid and) Electric Vehicles in India – (FAME -India) also received an outlay of ₹29.1 billion (~$389 million), a nearly threefold increase compared to ₹7.6 billion (~$101 million) last year.
Mercom spoke to several stakeholders to get a sense of the market sentiment.
Boost for domestic manufacturing
Speaking to Mercom, Gyanesh Chaudhary, Vice Chairman and MD of Vikram Solar, said the PLI allocation of ₹195 billion (~$2.61 billion) for manufacturing high-efficiency solar modules for the existing wait-listed PLI bidders was a welcome step and would help reduce dependence on imports, create jobs, and attract investments.
Commenting on the budget, Sumant Sinha, Chairman and CEO of ReNew Power, said, " We expect the Indian Renewable Energy Development Agency (IREDA), which has been capitalized recently, to move fast and issue letters of award to companies that have bid under the PLI program."
Sinha said that the revocation of anti-dumping duty on steel would considerably reduce the cost of modules and tie in nicely with incentives for locally incorporated manufacturing entities, which can commence manufacturing by March 31, 2024.
Energy Storage
SK Gupta, Executive Director and CFO of Amp Energy India, said, "Making grid-stage battery solutions a part of infrastructure projects will give further impetus to the seamless integration of renewable generation and distribution systems with improved grid stability."
Sharing his views on the budget announcements, Tulsi Tanti, Founder and Chairman of Suzlon Group, said, "This was a very crucial budget post-pandemic, and it will go a long way in stimulating the economy. I applaud the announcement of the green bonds, which will bring about the much-needed investment in green energy projects. The enhanced capital outlay of ₹7.5 trillion (~$100.29 billion) for the FY 2022-23 augurs well for the economy even as inflation is under check at this point."
BCD on solar imports
Bharat Bhut, Co-founder and Director of Goldi Solar, said, "Implementing 40% BCD on solar modules and the additional allocation of ₹195 billion (~$2.61 billion) for PLI for solar module manufacturing will ensure the growth of the entire domestic manufacturing ecosystem. The application requirements should be tweaked to ensure that MSMEs also benefit from the program. As a next step, the government needs to define measures to be taken in the R&D space to foster innovation and help companies stay ahead of the technology curve."
Adarsh Das, Co-founder and CEO of SunSource Energy, said, "The clarity on import duty on solar cells and modules will help ramp up the local manufacturing capacity to meet both Indian and global demand for solar modules."
Amp Energy's Gupta commented that the industry expected GST rollback on renewable projects and relief from the customs hike on cells and modules. No change in this was a little unexpected.
BCD on solar imports has had mixed reactions from manufacturers in the domestic traffic area (DTA), special economic zones (SEZs), and developers. Manufacturers in DTA are confident that the BCD will ensure the Chinese modules will not have the undue advantage of lower prices. While manufacturers in SEZs see an adverse impact with BCD imposed on the modules they sell in the DTA.
Developers are worried about an increase in GST rates and the imposition of BCD adversely impacting the cost of projects.
Battery Swapping
According to Sanjeev Aggarwal, MD, and CEO of Amplus Solar, "the policy announcements in the energy storage sector like battery swapping framework, battery-as-a-service, and storage being part of the infrastructure would help get the right traction to this essential component of the green energy ecosystem.
Naveen Munjal, MD of Hero Electric, said, "Interoperability standards will help address range anxiety issues, and battery swapping stations will be an asset to the evolving EV ecosystem across the country."
"We hope that the policy will address the industry demand to lower GST on batteries from the current rate of 18% and bring swap batteries under the umbrella of FAME subsidy," commented Siddharth Sikka, Co-founder, Battery Smart
Srivatsan Iyer, Global CEO of Hero Future Energies, opined that the proposed 'Battery Swapping Policy' and formulation of interoperability standards coupled with incentives to the private sector for innovative 'battery-as-a-service' business models would fast-track the rollout of EVs ushering in an era of clean mobility.
Vivekananda Hallekere, CEO & Co-founder, Bounce, said, "The government and policymakers have recognized battery swapping as the most effective solution to accelerate EV adoption in India by addressing range anxiety and hesitancy in adoption and considering the pragmatic aspects of setting up charging infrastructure. We believe this move can enable affordable and clean mobility at scale. "
"We are observing a spurt in the growth of OEMs, and the interoperability policy will help the overall sector through standardization and optimal use of the scarce resources through battery-swapping. However, with more batteries per EV, the need for recycling these batteries will be necessary for driving sustainability through clean mobility. Along with the battery policy, we feel that a long-term view on lithium-ion battery recycling is also required to bring the segment under circular economy," commented Rajat Verma, CEO & Co-founder of Lohum.
According to Chetan Maini, Chairman & Co-founder, SUN Mobility, "Battery swapping technology addresses key challenges around upfront cost, range anxiety, and long charging time, enabling faster EV adoption. As the policy unfolds, it would be great to see the government addressing key points around how customers can access subsidies, range per charge criteria (as swap batteries, by definition, are smaller and with less range), and GST for swapping services in line with EVs."
Nikunj Ghodawat, CFO of CleanMax, said, "It's a reasonably balanced budget not influenced by the upcoming elections. The higher allocation for government CAPEX is good news. The direction for simplifying tax litigation is a good sign, though it is necessary to see how it gets implemented."
While the initial reactions to the budget announcement have been positive, the industry will continue to monitor the developments while the proposed policies and financing take shape in the coming months.