2020 Q4 and ANNUAL INDIA SOLAR MARKET UPDATE – 3.2 GW INSTALLED IN CY 2020
---
The cumulative solar installed capacity totaled ~38.9 GW at the end of Q4 2020.
India added 3,239 megawatts (MW) of solar capacity in calendar Year (CY) 2020, a 56% decline year-over-year (YoY), compared to 7,346 MW installed in 2019.
Large-scale solar projects accounted for 78% of the installations with 2,520 MW and saw a 60% YoY decline, and rooftop installations made up for the remaining 22% adding 719 MW, a 35% drop YoY.
The cumulative installed solar capacity in India was 38.9 GW at the end of Q4 2020, with large-scale projects accounting for 87% (33.8 GW) and rooftop adding the other 13% (5.1 GW)
Andhra Pradesh, Rajasthan, and Gujarat were the top three states for large-scale solar capacity additions, representing around 51% of 2020 installations.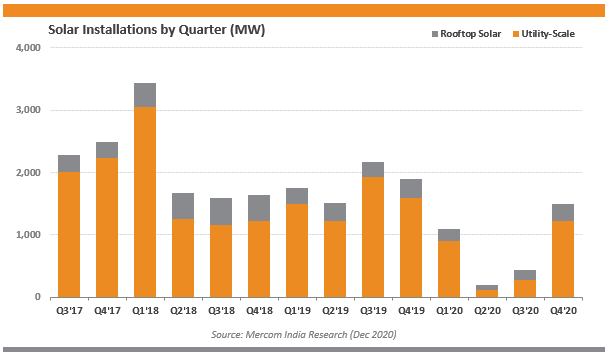 Key Highlights from Mercom India Research's 2020 Q4 and Annual India Solar Market Update
India added 3.2 GW of solar in CY 2020, a 56% decline compared to 7.3 GW installed in 2019
Large-scale solar installations in 2020 accounted for 78% with 2.5 GW, and rooftop made up the remaining 22% adding 719 MW
Cumulative solar installed capacity in India was approximately 38.9 GW at the end of Q4 2020
The large-scale solar project pipeline in India stood at 47.5 GW, with another 24.5 GW of tendered capacity pending auctions at the end of Q4 2020
Solar accounted for 48% of new power capacity additions in 2020
In 2020, investments in the Indian solar sector were 66% lower compared to 2019
Electricity generated from solar in 2020 crossed 58.2 billion units
Contact Mercom for pricing: reports@mercomindia.com or call us at 011-91-802-356-0436.
---