The solar industry is optimistic about achieving the Maharashtra government's target of installing 13 GW of solar projects by 2025 and has called for creating an investment-friendly environment and proactive implementation of the policy regime to realize the target.
In January this year, the Maharashtra government announced its 'Unconventional Energy Generation policy,' which aims to implement 17.36 GW of transmission system-connected renewable power projects, including 12.93 GW of solar projects, by 2025.
The 12.93 GW of solar projects includes 10 GW of standalone power projects, 2 GW of grid-connected rooftop solar projects, 500 MW of solar-based water supply projects, and 250 MW of solar generation projects for farmers.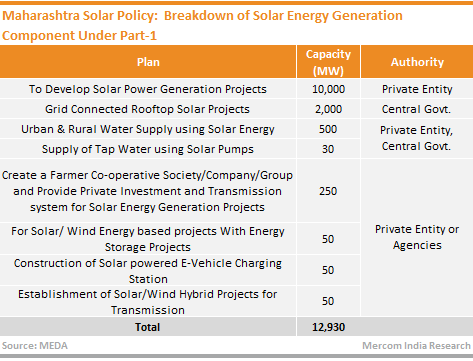 Mercom spoke to representatives of solar companies to elicit their views on the new renewable energy policy.
Surajit Chanda, General Manager – Business Development, Aditya Birla Renewables, said Maharashtra was one of the early movers on the renewable energy front by announcing its targets in line with the central government's plan to have 450 GW of renewable capacity by 2030.
"The target seems achievable, but the government needs to avoid delays in providing transmission connections and ease the approval process for solar projects. It has to create an investment-friendly environment for investors."
"Recently, some auctions have been canceled because their tariffs differed from those in later auctions. This should not happen in the future, and the letters of award and power purchase agreements should
be honored. Agencies must not cancel the auction or renegotiate power tariffs to discover lower tariffs," Chanda said.
This is also the case in Gujarat where the Commission recently allowed the distribution company to cancel the 700 MW solar auction in the state's Dholera Solar Park and retender it in an attempt to discover a lower tariff for the projects.
Nikhil Nahar, Director at SolarSquare Energy, also believes that the target can be met. "Policy implementation has to be easy, clear, and stable without frequent changes. The government should implement an online and time-bound single-window clearance system to develop solar projects."
"In case of rooftop solar projects, a clarification regarding the net and gross metering for commercial and industrial segments is much needed. The choice of behind the meter captive rooftop solar project should be left to the consumer," he said.
Animesh Damani, Managing Partner, Artha Energy Resources, said the policy would help the state achieve its target of 40% electricity generation through renewable sources by 2030. The 2GW target for the rooftop solar segment seems easily achievable and should be increased to 5 GW as the state has a vast potential that will remain untapped.
"However, there is a need for payment discipline from the Maharashtra State Electricity Distribution Company to improve investor confidence. The approval process for a grid-connected system, whether on open access or a net-metering basis, is extremely time-consuming. All these issues need to be resolved on the ground level to encourage private participation in this ambitious solar policy," he added.
Maharashtra plans to implement ₹780 million ($10.5 million) worth of transmission-free renewable projects annually, including 100,000 agricultural solar pumps, 52,000 kV of rooftop solar systems, and 2,000 solar water supply stations. The plans also include electrification of 10,000 rural homes, microgrid projects for 20 homes, 800 solar cold-storage projects, and 55,000 square feet of solar water/solar cooking systems.
According to Chanda, the inclusion of the rural electrification program and microgrid projects in the policy is a good move. It can help provide power in areas far away from grids and difficult for distribution companies to reach. The implementation of solar agricultural pumps and solar pumping stations will benefit the farming sector.
Damani said the government's decision to refocus its efforts on Maharashtra's rural sectors addresses a significant opportunity in the state. "it will open revenue lines and generate direct and indirect employment. Moreover, it is likely to encourage entrepreneurship in the field of off-grid solar, solar pumps, solar-powered cooking systems, solar-powered cold storage, amongst others."
Endorsing Damani's view, Nahar said Maharashtra's steps are aligned with the central government's push to solarize 100,000 agricultural pumps.
According to Mercom's India Solar Project Tracker, Maharashtra has 1.6 GW of operational solar capacity, with 1.2 GW of projects in the pipeline as of September 2020.
Harsh Shukla is a staff reporter at Mercom India. Previously with Indian Express, he has covered general interest stories. He holds a Masters Degree in Journalism from Symbiosis Institute of Media and Communication, Pune.