The government's approval for the Production Linked Incentive (PLI) program under the 'National Program on High-Efficiency Solar PV (Photovoltaic) Modules' has been widely welcomed by the solar industry.
The PLI program aims to achieve gigawatt scale manufacturing capacity with a budget of ₹45 billion (~$605 million).
Solar PV manufacturers will be selected through a transparent, competitive bidding process. The incentive will be disbursed for five years after the solar PV manufacturing plants are commissioned, followed by the sales of high-efficiency solar PV modules.
Manufacturers will be rewarded for higher efficiencies of solar PV modules and sourcing their material from the domestic market. The PLI amount will increase with increased module efficiency and increased local value addition.
The tender is expected to be out by the end of April
Mercom spoke with MNRE Joint Secretary, Amitesh Kumar Sinha who said that due to rising Covid cases and the vaccination drive, some of the senior staff members are currently unavailable at work, "Therefore we could not push the file to get the MNRE Minister RK Singh's approval, else we would have published the notice inviting tender. By the end of this month, we should issue the guidelines and publish the tender. Our target was to wind up the bidding process by June 30, 2021, and we will try and adhere to it.
According to Sinha, three parameters will determine the winning bidders. First is the qualifying parameter of minimum module efficiency. It is followed by two marking systems. First is the extent of integration. Those who put up polysilicon module manufacturing units will get maximum marks. The capacity of the plant is the second criterion. If the bidder proposes to build a plant of 4 GW or above, then they will get full marks.
He said, "The minimum capacity for the bid is 1 GW and the minimum extent of integration is for cells and modules, which means the manufacturers must submit bids to produce 1 GW each of cells and modules. Based on the marking system, bidders will be ranked with the highest marks taking the top position, followed by the second-highest marks and so on, until the entire ₹45 billion (~$595.7 million) outlay is exhausted."
He further added that once the bidder is selected they will have to present a trajectory of PLI which they will claim for the next five years, "There is no cap on PLI. In case two bidders score equal marks, the bidder quoting a lower PLI will be given preference."
Big Solar Manufacturers Welcome PLI
According to Animesh A. Damani, Managing Partner, Artha Energy Resources, the PLI program, in addition to the already announced BCD on solar modules, will spur the manufacturing sector in India.
However, he wanted the government to support the domestic manufacture of other materials such as glass, EVA, and backsheet required for solar PV modules.
"While the fine print is yet to be assessed, we hope that measures are being put in place to ensure price parity and easy accessibility to cater to the booming demand in the C&I segment. Moreover, as Indian PV manufacturers currently only meet 10-20% of annual domestic demand, the pace of kick-starting domestic manufacturing is of paramount importance. We look forward to a swift and effective roll-out of the scheme," Damani said.
Smaller players may get squeezed out
According to Avinash Hiranandani, CEO & Managing Director of Renewsys India, if bigger players announce that they will manufacture everything, including cells, wafers, ingots, and modules, then a huge chunk of the PLI pie will go to them, leaving little for the rest.
He said, "The outlay declared by the government is not enough to boost every domestic player's production. We expect several players to apply for the program and cannot say how many will get funding. Bigger players will enjoy a huge pricing advantage, especially if they get funding under PLI. However, very small players – the MSMEs (Micro, Small, and Medium Enterprises) – will not be considered for the outlay as the production capacities for cells and modules are not on the GW scale. India has around 170 module manufacturers, of which 120 are in the MSME category."
Similar concerns were raised by Akshay Mittal, Director, Blue Bird Solar, who said that only those companies that are eligible and participate in the tender will get the outlay. He said, "I don't think this outlay will provide any benefit for the MSMEs as they will not be eligible to participate due to production capacity limitations. Of the 100% manufacturers, 80-90% fall under the MSME category, and they are not covered under this scheme.
Hiranandani told Mercom that Renewsys is waiting for the fine print of the notification. "If we feel that there is a definite benefit for us, we will apply for 1 GW each of cells and modules under the PLI program."
According to Hiranandani, the PLI program also covers wafers and ingots, and if the manufacturer is keen on backward integration, then they have the scope to get more funding under the program. "The program encourages manufacturing of the whole value system in India. Whether it is viable to manufacture ingots, wafers, polysilicon, etc., is hard to tell," he said.
He felt that it was time to look at polysilicon as raw material, like crude oil. "India imports its crude oil from the world but refines it on our shores. Similarly, we need to look at polysilicon as a crude commodity that will be refined for end consumers here on Indian shores."
According to Mittal, PLI cannot counter India's dependence on Chinese imports, "since there is no one in India manufacturing wafers, ingots, cells, etc. Even now everyone is importing non-DCR cells. Only those companies with deep pockets can undertake vertical integration, like Renewsys and Adani. There is speculation that the program also allows foreign players to set up factories in India and the Chinese will try to enter the market.
Meanwhile, Hiranandani expects the cost of raw materials imported from China to go up. "Even China witnesses policy gaps. For example, under the Chinese government's subsidy policy, a subsidy ceases for some time. During the gap phase, Chinese companies increase production and dump their products overseas.  I do not think they will be able to dictate the rates in India unless they start levying export duties in China. The supply-demand gap will play its role, and China may be tempted to increase rates in India, but India is already a huge market for them. Market dynamics will dictate the pricing," he said.
Chinese suppliers expect stiff competition next year
According to Pradeep Sangwan, Country Head- Econess Energy, most Chinese manufacturers will not opt for joint ventures with their Indian counterparts. "Instead, they may go for Original Equipment Manufacturing (OEM). In 2012-13 demand for DCR (Domestic Content Requirement) went up, Chinese manufacturers tied up with OEMs like Websol."
"In the manufacturing segment, the top 5-6 Chinese players will survive, while smaller tier-2 and tier-1 companies like Econoess Energy will find it difficult to raise their market share in India from 2022 because the market will go after Indian modules made from Chinese cells. Tier-2 companies' main market is 335 W modules which they supply to large developers at low rates."
According to Sangwan, once the BCD kicks in, the market will shift towards Indian manufacturers. "If Indian manufacturers push the threshold above 440 W, then it will lead to stiff competition with the Chinese manufacturers, especially after BCD. However, this is also speculative as clarity is based on wafer and cell prices, since all raw materials come from China," he said.
According to an executive at LONGi Solar, the company has been exploring manufacturing options in India for almost 3-4 years.
However, the source added, "We saw new challenges coming up every year. With the implementation of BCD it is clear that imports will not be feasible for Chinese manufacturers anymore. A couple of years ago we held an internal meeting, and we even hired a few consultants to work on this project."
He further stated that LONGi is keen on carrying out manufacturing in India, "However, we will decide whether to enter through a joint venture or not by June this year."
Manik Garg, Director, Business Development, Saatvik Green, felt that PLI by itself would not be of help in competing with imports from China. "BCD will do that," he said.
He said that there was no clarity on how the PLI would be disbursed across the sector. "There is no policy, only a notification reflecting Cabinet approval," he said, adding that his company would apply for the incentive.
In November last year, the government had said that it would allocate ₹1.45 trillion (~$19.61 billion) under the PLI program to ten critical sectors over the next five years. Some of these sectors include high-efficiency solar PV modules, advanced chemistry cell batteries, and automobiles and auto components. The government will allocate ₹796.42 billion (~$10.75 billion) for these three sectors in the next five years.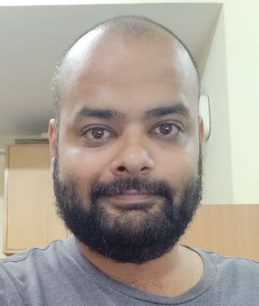 Rahul is a staff reporter at Mercom India. Before entering the world of renewables, Rahul was head of the Gujarat bureau for The Quint. He has also worked for DNA Ahmedabad and Ahmedabad Mirror. Hailing from a banking and finance background, Rahul has also worked for JP Morgan Chase and State Bank of India. More articles from Rahul Nair.