In 2020, 420 climate-aligned issuers issued climate bonds of $913.2 billion, Climate Bonds Initiative, a London-based non-profit research organization, said in its latest report. The climate-aligned market is around half of the labeled Green, Social, and Sustainability (GSS) bond market that reached $1.7 trillion in 2020.
Climate bonds are financial instruments designed to raise funding for climate change solutions.
According to the report, the Asia-Pacific region accounts for $436.6 billion issued by 183 climate-aligned issuers. With the issuance of $325 billion, China accounts for 74% of regional issuance and 36% of the global market. While Europe, with 121 issuers, accounts for $321.3 billion of climate bonds. Of which, France – with issuance climate-aligned bonds of $173.6 billion – covers over 54% of the regional issuance.
Transport dominates the climate-aligned issuance with over 55% of total issuance, followed by energy (24%) and water (10%). Railway companies account for almost all the transport-related climate-aligned issuance. While themes like information and commutations technology (ICT) and waste represent 5% and 4% of total issuance, respectively.
The report stated that 203 climate-aligned issuers issued climate bonds worth $464.8 billion across 21 countries in the developed market. Of this, more than half of climate bonds would mature within eight years.  In the developed markets, transport (42%) is the top issuance theme, followed by energy (23%) and water (15%). The report suggested scaling up the labeled green bond market in developed markets as over half of the climate bonds would mature within eight years.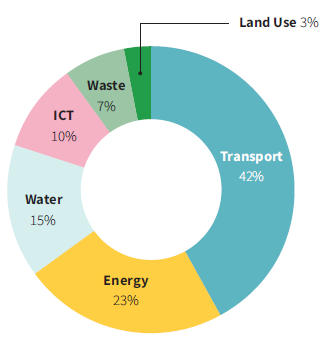 On the other hand, emerging markets – excluding China – cover 14% of the global climate-aligned volume with $123 billion of outstanding climate bonds. Asia-Pacific rules with 73% of volume and 80% deals. Followed by Latin America with 24% of volumes and 17% of deals. Africa represents less than 1% of the market. South Korea was the largest bond issuer with $59.9 billion, with a 44% market share, followed by India with $28.6 billion with a 25% market share. In the emerging markets, the energy market leads the climate-aligned issuance of $62 billion, followed by transport with the issuance of $45.5 billion, and water with the issuance of $13.3 billion.
According to the report, climate-aligned companies are well-poised to raise funding for green hydrogen activities' development and maintain business relevant in the light of the global transition towards carbon neutrality. In addition, there are enough opportunities for real estate companies to utilize green finance tools to fund low-carbon real estate projects.
To meet the 1.5°C climate ambition, substantial emissions reductions in the transport sector are still required despite investments' growth in low-carbon mobility in recent years, the report said.
Sean Kidney, Chief Executive Officer of Climate Bond Initiatives, said, "The climate-aligned universe represents a further opportunity for investors seeking to re-weight their portfolios to meet environmental, social, and governance (ESG) objectives and reduce their carbon exposure. Simultaneously, the opportunity exists for climate-aligned companies to enter the GSS labeled bond market via refinancing and benefit from the extra visibility offered by such instruments. Expanding green and sustainable debt markets, increasing the depth and diversity of offerings, has a positive impact that benefits all stakeholders."
According to Climate Bonds Initiatives' report, global green bond issuance reached a record high of $269.5 billion in 2020, a 1.12% increase compared to $266.5 billion in 2019, due to a late surge in the second half of 2020.
Several energy companies raised funding through the issuance of green bonds in recent times. Last month, energy and urban development company Sembcorp Industries announced the successful pricing of its inaugural SGD 400 million (~$301.9 million) green bond offering to support its growing renewables portfolio. In May 2021, JSW Hydro Energy, a wholly-owned subsidiary of JSW Energy, had raised $707 million (~₹52 billion) through its green bond sale.
Harsh Shukla is a staff reporter at Mercom India. Previously with Indian Express, he has covered general interest stories. He holds a Masters Degree in Journalism from Symbiosis Institute of Media and Communication, Pune.